Machida wins 2007 Okada Prize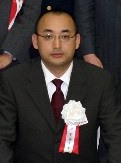 Ryuji Machida, CMarZ-Asia Project Manager and Post-doc, was recently awarded the Okada prize for 2007 from the Oceanographic Society of Japan (OSJ) with his accomplishments on a series of research on "molecular genetics and evolution of marine zooplankton".
Commemorating the late Professor Takematsu Okada, the Okada Prize is awarded to a young member of the Society who has made outstanding contributions to the progress of oceanography. Up to two prizes are awarded annually.